Who we are (Meet the team)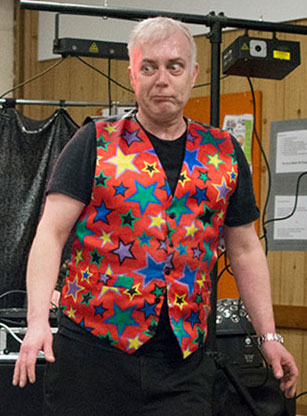 I am Richard & I started Magic Moments Entertainment in 1991. As a Dad to 3 boys and with over 20 years experience under my belt as a performer, I fully understand how stressful and daunting a childs birthday party can be. This is where I step in with my team to entertain and take all that stress away.
Our most popular 2 hour show starts with balloon modelling for all guests; leads into a Disco with games (sweets and prizes are included) and culminates in an interactive Magic & illusion show with the production of Hocus our magical rabbit.
James (10) now assists me at most parties and his dj-ing skills are awesome. James is also learning balloon modelling and his repertoire is quickly expanding.
Daniel (7) prefers the performing side of the business to James and likes to be part of our stage illusions whenever he can. You may well see him make a magical appearance or vanish or being levitated at your next show.
Hocus is our beautiful magical bunny rabbit who appears, vanishes and keeps surprising the audiences as to where he will come from next. At only 9 months he is our youngest asset to the team.

Richard Furzer is a member of the International Brotherhood of Magicians